To say that Osaka Station is a busy place is a huge understatement.
It's the busiest railway station in western Japan, serving over a million passengers every day (together with its neighbor, Umeda Osaka station).
And there's so much stuff jam-packed into the areas surrounding the station that you wouldn't need to go very far to find something of interest.
From shopping malls, luxury department stores, restaurants/bars and movie theaters, the area around Osaka Station has it all.
There's even a ferris wheel and a rooftop farm!
It's no surprise that there are also dozens upon dozens of excellent hotels to choose from when visiting Osaka.
Hotels within walking distance of the station offer the incredible convenience of not only exploring Osaka City easily, but also cities all over Japan.
Here's a list of the 7 best lodging options near Osaka Station for every budget and traveler-type.
1. Osaka Guesthouse HIVE
I sometimes link to vendors to help our readers find the appropriate accommodations. I may receive commissions (at no cost to you) from purchases made through our links. Learn more



While the Osaka Guesthouse HIVE is more of a hostel than a hotel, it is a perfect option if you want to stick to a budget and meet some fellow travelers.  You can do all of this while staying close to
the hubbub of Osaka. It's a 12-minute walk from Osaka Station.
Hang out on the rooftop terrace with new friends and chill out in the lounge space/kitchen that has free self-service coffee and tea.
Guesthouse HIVE is warm and inviting, ideal for those who prefer to keep it low-key (and low-cost) while traveling.
Pros vs Cons
Pros
Free Japanese breakfast
Very helpful, friendly and multilingual staff on hand
Self-serve laundry machines
Vending machines
Clean rooms
Reasonable rates, especially for dormitories
Free amenities such as shampoo and conditioner, and computer and printer use
Cons
Very little space in rooms besides beds
Need to be 18 to stay here on your own
As the case with any shared room situation, it can be noisy
Location
A 12-minute walk to Osaka Station with lots of shopping and restaurants around. The Umeda Sky Building is a 5-minute walk away.
Rooms
The twin room with toilet and the family room have a shared bathroom. All other rooms and bathrooms at the hostel are dormitory style (10 – 12 adults per room).
The dormitories have bunk beds (and curtains for privacy).
Insider's Tip
While normally a ¥300 charge, if you "like" them on Facebook, you can rent a towel for free. Be sure to ask as this offer might not be available during the time of your stay.
For More Information
Osaka Guesthouse HIVE Facebook Page
Making Reservations
Check prices and availability on Agoda.com
2. Hotel Granvia Osaka
A hotel located right in Osaka Station, Hotel Granvia is an extremely convenient place to stay if you want to save time and travel costs.
You won't need to go far for dining if you stay here: They have 10 restaurants right in the hotel.
Options include a casual eatery (for coffee or lunch), French-Italian fusion, teppanyaki, Chinese, Western-style buffet and more.
You can even have your wedding at the Hotel Granvia, which has professional wedding planners on staff, ready to make your wedding dreams come true.
Pros vs Cons
Pros
Ultimate convenience. The hotel is in Osaka Station (South Gate Building)!
Amazing city views from rooms
Reasonable rates for a hotel of this quality and service
So much to do, see, and eat within a few miles radius
Cons
Rooms are small
Some rooms are getting a bit old and might need updating
Insider's Tip
You can buy tickets and passes for various attractions and transportation at the front desk, including passes to Universal Studios Japan.
Making Reservations
Be sure to check the prices on websites like Booking.com or Agoda for any specials or possible low rates.
Check prices and availability on Agoda.com
3. Hilton Osaka
The world-famous Hilton Hotel of Osaka is always a reliable option for a luxury hotel.
You can expect gorgeous rooms with stunning city views, and lots of amenities, services and facilities – like an amazing fitness center and pool.
It's a short walk to all the major stations of Osaka, as well as department stores, restaurants, and other local attractions.
If you're looking for something a little more luxurious while not breaking the bank, then the Hilton Hotel Osaka might be what you're looking for.
Pros vs Cons
Pros
24-hour fitness center has pool, jet bath, and walking/jogging track
Full-service spa
Awesome restaurants in the hotel
Cons
Pricer than other hotels, but can be worth it if you want something a little more luxurious than a business hotel.
Rooms
Guest rooms have city views and a couch area – they even provide yukatas for maximum relaxation
Suites are a spacious 968 sq. ft., with large living rooms – also with stunning city views
Restaurants and Other Shops
There are a few restaurants and bars/lounges in the hotel, but they are undergoing renovations during the beginning of 2018. Please check out their website to see which restaurants are available during your stay.
Other shops include: a barber shop, beauty salon, florist, gift shop and newsstand.
The hotel is directly connected to a large shopping mall if you don't find what you're looking for in the hotel.
Accessibility
The hotel has accessible elevators, meeting rooms, parking and other shared spaces for physically challenged guests.
Rooms that are accessible with wheelchairs are available by request.
Service support animals are welcome, but not personal pets.
Restaurants
Checkers: International fare in a restaurant with a Mediterranean vibe
Windows on the World: A fancy, romantic Italian restaurant with incredible views of the entire city as your backdrop
Myplace Café & Bar –have coffee, get some drinks, grab lunch in a stylish atmosphere
*Note: Some restaurants are planned to be renovated in early 2018. Be sure to check their website to see which restaurants will be open during your stay.
Insider's Tip
Traveling with kids? There's babysitting service available, if you need a break.
Making Reservations
Check prices and availability on Agoda.com
4. Drop Inn Osaka
Even though they call themselves a hotel, Drop Inn is more of a stylish hostel with distinctly Japanese decor.  Drop Inn Osaka is another great option for those traveling on a budget.
It's clean, organized and comfortable – everything you could ask for in a low-cost guesthouse.
They even hold weekly events like takoyaki and hand-rolled sushi parties. These events are a good opportunity to meet new people and experience Japanese culture.
Pros vs Cons
Pros
Beautifully designed shared areas and rooms
Newly opened in 2014
Free breakfast consisting of toast, coffee, tea, and green tea
Amenities include shampoo, body soap, hair dryers, vending machines, etc.
Japanese futons for an authentic Japanese sleeping experience
Cons
Rooms can be noisy due to the shared rooms
Limited storage space for bags
Rooms
There are a mix of private rooms and dormitories, all of which have shared bathrooms/showers
The nicest room you can get is the Premium Quadruple Room, which has tatami flooring and nice Japanese touches like shoji windows.
Insider's Tip
Bring some earplugs or noise-canceling headphones if you're a light sleeper
Store extra bags in lockers available in Osaka Station. However, be sure to check the hours of operation for the lockers. Many lockers are not available for overnight storage. If you don't claim your items by a certain time at night, your locker could be opened and your things collected.
Making Reservations
Check prices and availability on Agoda.com
5. Hotel Hankyu International
Hotel Hankyu International describes itself on its website as a "luxurious hotel that reminds you of a European residence in the Medieval Ages."
The lobby is a grand affair with arches/columns, chandeliers, and opulent furnishings. You can feel like European royalty right in the heart of Osaka.
If that isn't alluring enough, this hotel is well-known for its amazing staff. They provide you with an amazing level of service to make sure you're well taken care of.
If you're looking for a fancy Western atmosphere while staying in Osaka, and can afford some very expensive rates, this hotel might be the perfect match for you.
Pros vs Cons

Pros
Central location with lots of shops and restaurants nearby, with a Starbucks located in the same building.
Gorgeous city views from rooms and restaurants
Cons
A bit further from JR Osaka Station (12 minutes) but closer to Hankyu Umeda Station (about 3 minutes from the Chayamachi Exit)
Expensive rooms
Use of the fitness center/pool is an extra charge (¥3,000 per day)
Restaurants
10 restaurants including teppanyaki, Chinese, sushi, Kyoto cuisine, and tempura.
Insider's Tip
You can probably leave your toiletries at home – Hotel Hankyu International offers some pretty high-quality amenity sets.
Making Reservations
Check prices and availability on Agoda.com
6. Conrad Osaka
Snagging the TripAdvisor's Certificate of Excellence in 2017, Conrad Osaka is the epitome of a luxury hotel and part of the Hilton Hotel family.
The elegant lobby is located on the 40th floor, so you can take in the breathtaking view of Osaka city as soon as you exit from the elevator.
Conrad Osaka is famous for their amazing spa services, with a section of the menu called "A Sense of Japanese Being" that focuses on treatments with Japanese elements.
You can soak in a bath of sake or enjoy a "Japanese healing head massage" to melt away the stresses of the day.
Pros vs Cons
Pros
Indoor pool, sauna, 24 hour gym (extra charge)
Hotel is directly accessible from a subway station
Excellent and helpful multilingual staff
Amazing spa services and restaurants
Cons
A luxury hotel with high prices to match
Rooms
The rooms have a modern design with elegant Japanese touches. There are also floor-to-ceiling windows, providing excellent views of the city.
The digital control panel makes it easy to adjust lighting, curtains, and temperature.
Restaurants
The hotel has four restaurants and a bar/lounge on site.
Atmos Dining: International cuisine and all-day dining
Kura: Teppanyaki and sushi
C-Grill: Barbecue lunch and dinners
40 Sky Bar & Lounge: International cuisine and fancy drinks
Insider's Tip
Need inspiration for what to do during your stay in Osaka?
Check out Conrad Hotel's recommendations for how to spend 1, 3 or 5 hours in Osaka on their website: Conrad Osaka Stay Inspired Page
Making Reservations
Check prices and availability on Agoda.com
7. Ostay Umeda Apartment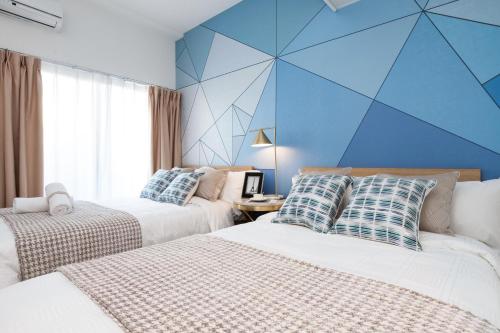 The wonderful thing about staying in an apartment is that it can feel like a home away from home.
You can cook and eat whenever you get hungry, do your laundry, and chill out in the living room. It's nice being able to do whatever you want in the comforts of your own home.
Ostay Umeda Apartment is a clean, conveniently located "hotel" with beautifully furnished rooms.
Pros vs Cons
Pros
Kitchen has everything you need to cook and eat whenever you want
Relax on the balcony and enjoy the view
Multilingual staff (Chinese, Korean, Japanese and English)
Dimmable lights
Starbucks and bookstore downstairs
Free toiletries
Cons
Can be a bit noisy with train lines nearby
Check-in is at 4:00pm
Location
Around a 10-minute walk from JR Osaka Station and a 6-minute walk from Hankyu Umeda Station. There are many shopping and dining options all around – it's a great location for getting around the city.
Insider's Tip
A "welcome packet" to guide you in finding the location, getting the keys and opening the doors, etc. can be sent to you in advance, for a smooth check-in experience.
Making Reservations
Check prices and availability on Booking.com
Staying Near Osaka Station
Osaka Station and the surrounding areas can be a crowded, fast-paced, and slightly intimidating environment if you're not familiar with it.
Fortunately, there are lots of signs in English to help with navigating the streets and railways – at least, more than in other cities.
And people are generally very helpful and friendly if you need some help.
It's a common story of visitors who asked for directions and were walked all the way to their destination.
Once you're feeling comfortable, Osaka is an exciting city to explore
Staying in a hotel close to the station is convenient and smart –you save time and taxi fares.
And with so many great hotel options, there's really no reason not to.
Top Attractions in Osaka